Right, that's all from me. Two ties remain tied as I type, but I'm afraid they will have to be played to a conclusion liveblogless. Here's a selection of reports on the evening's football in England and across Europe. Bye!
Here's a report on Rangers' triumph from Ewan Murray:
Borussia Dortmund were the favourites to win the Europa League before this tie with Rangers. By the time it concluded – sadly though that was for neutrals – the Germans found themselves eliminated from the competition.

For Giovanni van Bronckhorst, who has watched Rangers stutter on the domestic front, this felt a hugely significant success.

Rangers had a the aim of not wasting the lead earned by an outstanding display at Signal Iduna Park and duly delivered. Dortmund's showing amid a raucous atmosphere on Glasgow's south side was markedly better than in front of their own support but they proved unable to turn the tide. Over 180 minutes, Rangers played the more effective football.
Much more here:
A brilliant performance by Rangers over two legs. They had to do some defending tonight, but they had more shots on target than their opponents and could easily have had another goal or two themselves.
Tonight's other outstanding performance came in Naples, where Barcelona's Xavi-inspired resurgence continued as they completely overran a Napoli side that sits just two points off the top of Serie A.
Slavia Prague win a special prize for commitment to entertainment, beating Fenerbahce 3-2 for the second time and thus 6-4 on aggregate. The 21-year-old Nigerian winger Yira Sor, signed from Banik Ostrava last month, was the star and looks, like his team, one to keep your eye on.
So the final whistles sound and these were the scores in tonight's late games after 90 minutes:
Europa League
Napoli 2-4 Barcelona (3-5 on aggregate)
Rangers 2-2 Borussia (6-4)
Real Betis 0-0 Zenit St Petersburg (3-2)
Sporting Braga 2-0 Sheriff Tiraspol (2-2, extra time being played)
Europa Conference League
PAOK Salonika 2-1 Midtjylland (2-2, extra time being played)
Slavia Prague 3-2 Fenerbahce (6-4)
Vitesse 2-0 Rapid Vienna (3-2)
Extra time! Braga and Sheriff will also need a bonus half-hour.
Rangers dump Borussia Dortmund out of the Europa League!
The final whistle blows at Ibrox, and Rangers have won 6-4 on aggregate over Borussia Dortmund thanks to tonight's 2-2 home draw.
Extra time! Another half-hour will be required to separate PAOK from Midtjylland.
GOAL! Fenerbahce have scored in Prague to make it 3-2 on the night. Slavia still lead 6-4 though, with seconds remaining.
NO GOAL! Zenit's goal has been disallowed for a foul off the ball! That looks extremely harsh to me.
GOAL! Zenit St Petersburg score an equaliser at Real Betis with nine seconds of normal time to go! It's 3-3 on aggregate there, 0-1 on the night.
GOAL! Napoli snaffle the ball from Barcelona inside the Spaniards' penalty area as the visitors try to play out from the back, and Politano scores with a low shot inside the near post. They're still 2-4 down on the night, mind, and 3-5 down on aggregate.
Believable scenes! Midtjylland are pushing for a winner now, and have just hit the bar with a header from a free-kick.
Another one! Midtjylland have scored in Salonika, making it 2-1 on the night and 2-2 on aggregate, so this game too would go to extra time if neither side scores in the final 10 minutes.
One tie is currently going to extra time, and it's between Braga and Sheriff. Braga lead 2-0 on the night, but are being held 2-2 on aggregate. Some stats from that game: Braga have had 23 shots to Sheriff's five, though lead only 4-2 on shots on target, and have had 65% of possession.
GOAL! But no! Vitesse think they have scored a third on the night against Rapid Vienna, but it is chalked off for offside.
GOAL FOR RANGERS! But no! Morelos steals the ball from Emre Can just inside the Borussia half, runs clear and squares to Ryan Kent, who taps in. But the referee is called to look at replays of the tackle on Can and decides that on balance there was a foul – Can caught Morelos's shin as he pulled back his right foot before passing back to his goalkeeper and thus stumbled, so although there was no intent it was probably the right decision.
Slavia Prague are home and also hosed now, leading as they are 3-1 against Fenerbahce, and 6-3 on aggregate. And their third of the night has been absolutely hammered in by Yira Sor, only just over the keeper's head but giving him no chance to react.
Chance for Dortmund! Reus is played in by Hazard, goes past the keeper and, as he prepares to pass the ball into goal from a narrow angle, he falls over!
Carles Puyol is watching Barcelona, and he likes what he sees: "I am sure this team will bring us joy, and sooner rather than later."
GOAL! It's Napoli 1-4 Barcelona, Pierre-Emerick Aubameyang has scored with an excellent finish after De Jong dummied Traore's cross, whipping a first-time effort into the top corner! That is absolute class, and Barcelona lead 5-2 on aggregate.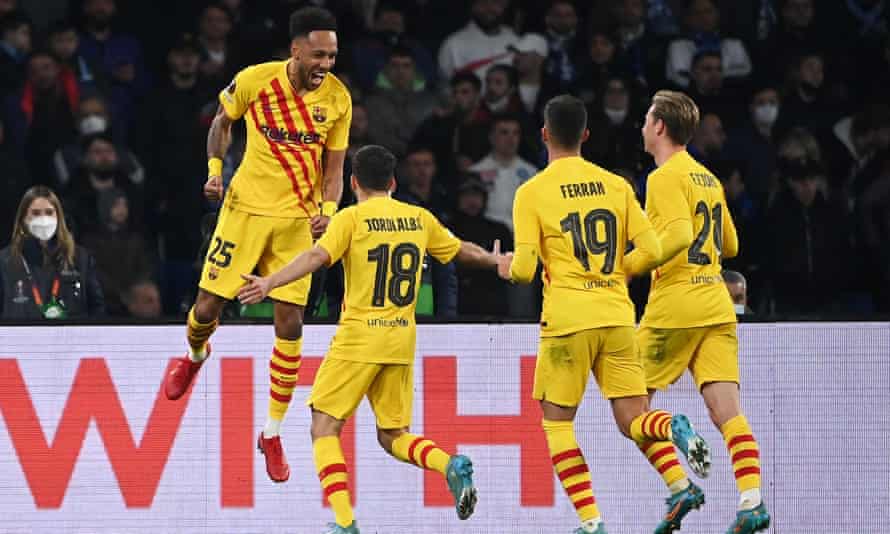 GOAL! Rangers 2-2 Borussia Dortmund (6-4 on aggregate)
Rangers reclaim their two-goal aggregate lead! Good work on the left, as the cross comes in Hummels takes a wild swing at a volleyed clearance, and James Tavernier hammers it in at the far post!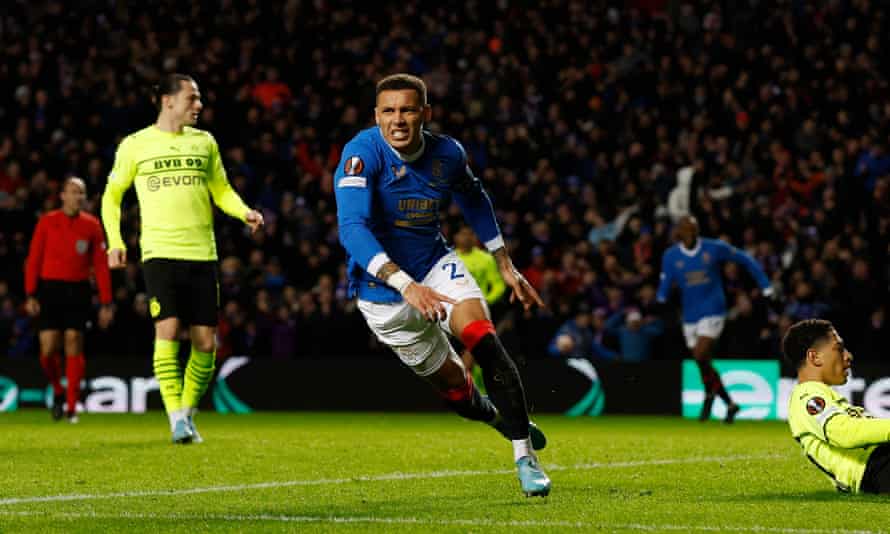 It's all going on in Glasgow. Jude Bellingham has been shown a yellow card for complaining about the award of what seemed a fairly obvious corner.
GOAL! Um, no, actually no goal! Zenit have the ball in the Betis net, but there was an offside in the build-up and Yuri Alberto's effort will not count.
Games back on, then. "I appreciate you're watching four games simultaneously, but Dortmund's second wasn't a case of the ball 'bobbling back' into the goalmouth," sniffs Francis Lee. "It was a delicate little pass threaded by Brandt through a mass of defenders to Bellingham and a backheel from him to the scorer Malen. Although granted: you did need the replay to appreciate it."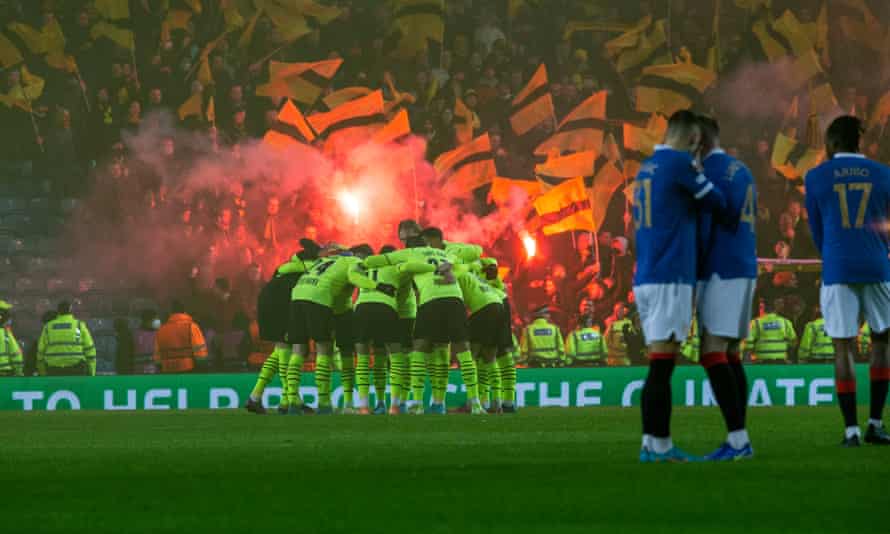 Right then, players are back out and more football is about to be played. Let's decide these ties, shall we? Or watch other people decide them. Or take them to extra time.
Half-time whistles have blown in most of the 8pm GMT kick-offs, and the scores as they stand are these:
Europa League
Napoli 1-3 Barcelona (2-4 on aggregate)
Rangers 1-2 Borussia (5-4)
Real Betis 0-0 Zenit St Petersburg (3-2)
Sporting Braga 2-0 Sheriff Tiraspol (2-2)
Europa Conference League
PAOK Salonika 2-0 Midtjylland (2-1)
Slavia Prague 2-1 Fenerbahce (5-3)
Vitesse 2-0 Rapid Vienna (3-2)
GOAL! Barcelona are 3-1 up in Napoli, and 4-2 up on aggregate! This time it's Jordi Alba's assist, and Gerard Pique takes a nice first touch before scuffing a shot across goal and in at the far post!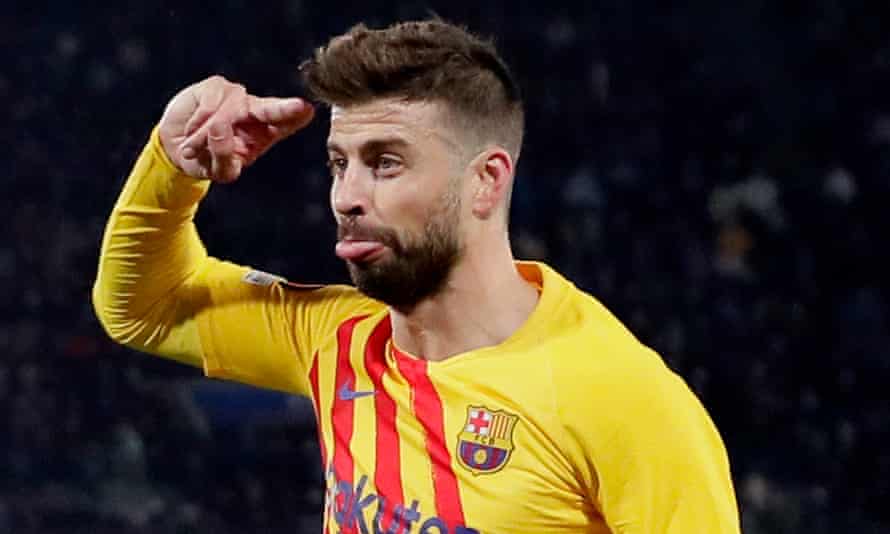 GOAL! Braga have hauled Sheriff in! It's 2-0 on the night now, and 2-2 on aggregate, after a nice move is rounded off with a fitting finish from Ricardo Horta.
GOAL! Rangers 1-2 Borussia Dortmund (5-4 on aggregate)
It's up for grabs now! A cross from the right bobbles through the area, is sent bobbling back in again, and Malen prods it in from eight yards!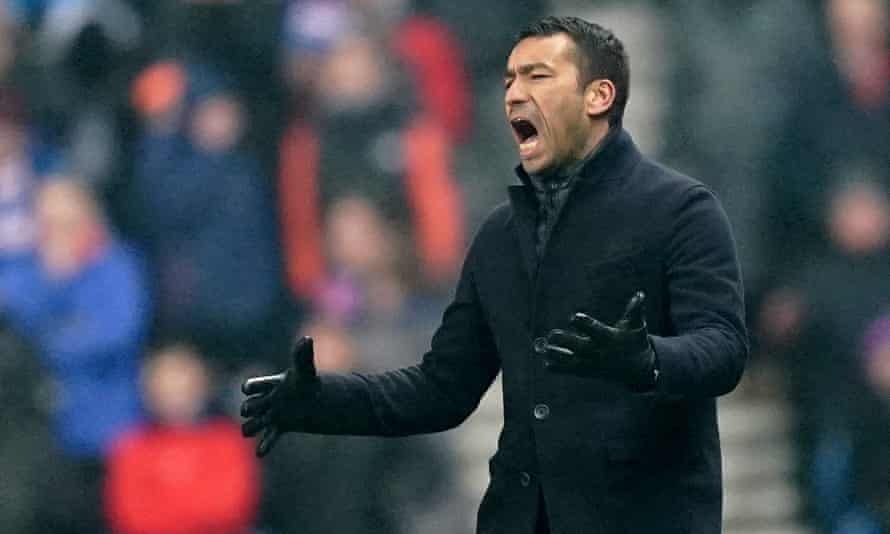 Fenerbahce have pulled one back at Slavia Prague, Mert Hakan Yandas basically passing it in with his left foot from 20 yards. It's 2-1 on the night, 5-3 on aggregate.
Rangers nearly score another! Scott Arfield though has a shot saved, and Mats Hummels is on the line to block the follow-up!
GOAL! Rangers 1-1 Borussia Dortmund (5-3 on aggregate)
It's not a great pass into the area, but the defender kicks it into Bellingham and it bounces nicely into his path, and he prods into the net!