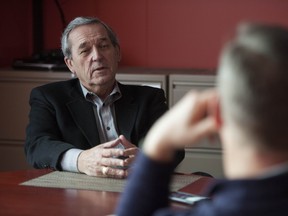 Article content
What team president Victor Cui has accomplished so quickly in Edmonton — repairing the Elks' fractured relationship with an increasingly unhappy and apathetic football community — might be matched by a resurgence of the B.C. Lions.
Article content
The two franchises, which meet Saturday night in BC Place Stadium to kick off their 2022 Canadian Football League regular seasons, are both rebuilding their fan bases.
Cui has generated interest and regained the trust of a community that was ignored and offended by previous leadership. He's done it through one savvy tweet, one good decision, one earnest conversation, one energetic speech and one impactful public appearance at a time. His innovation and devotion to the task will surely show itself in ticket sales and the re-invigoration of other revenue streams. As an example, the team's 'Stand With Ukraine' promotion of a pre-season game against Calgary helped jack up attendance to 33,423.
Article content
The Lions, meanwhile, have been trying for years to transform themselves into a more relevant member of Vancouver's eclectic sporting and leisure landscape, with limited success, so their climb up off the mat might be more dramatic. On Wednesday, they opened up a limited number of seats in the upper bowl at BC Place and there is a good chance they will get to 30,000 fans.
Article content
"I think it's a great sign," team president Rick LeLacheur said of the ticket demand. "There is a lot of excitement and I think it goes with the change of ownership, with (Amar Doman) being local. He's fairly well-known and I think we've got some interesting things going on with the team. There is a lot of excitement with the Lions and the CFL now, which is very helpful when you get into the ticket business."
Doman has made it his mission to grow the football community in B.C.'s lower mainland. In the absence of an established star quarterback, he's the undisputed face of the franchise. His local business connections are an asset, so too his affable demeanour, passion for the CFL and willingness to spend money on the product, on the field and off. On Saturday, the halftime show will be the pop group OneRepublic.
Article content
"We've said right from the start with Amar, he knows it's a long-term venture," said LeLacheur. "It's not going to be overnight and clearly we've put a lot of emphasis into the home opener. But we have to do it one or two tickets at a time and it's going to take some time and it clearly helps if you've got an exciting, winning football team on the field.
"It's also game-day experience and social media. I'm just really proud of our social media team. I think our guys have knocked it out of the park compared to anybody else. That's a little bragging. Our game-day presentation I think is way better than it was. We've got a lot of young people, we gave them the reins and said go for it."
Cui, clearly the face of the community-owned Elks, said he owes a debt of gratitude to LeLacheur, who hired him to work on the communications team for the World Championships of Athletics in Edmonton back in 2001.
Article content
"I've been very fortunate because I've got one of the smartest brains in sports in Canada as my mentor, Rick LeLacheur," said Cui. "The guy is a genius. He's been around. He's seen everything. I literally would not have a career had he not had faith in me. He's just so smart and so good at what he does. I've been lucky I can tap into him for advice."
LeLacheur said he and his wife, Joan Forge, who was also on the 2001 team, visited Cui in Asia when he ran the mixed martial arts organization One Championship.
"He's really grown with it," he said. "Joan told him at some point that we'd be working for him."
Today, they're working together and separately on the same mission, making their teams and the CFL more relevant to an increasingly fractured ticket-buying public. The league's average attendance has been on a steady decline since reaching 28,190 in the 2012 regular season. By 2019, it had fallen to 22,916.
Article content
Cui, who grew One Championship into a thriving global property, sees the CFL's attendance challenge mostly as an issue of an outdated business model that demands innovation and a shift away from reliance on season-ticket sales.
"With every organization in the world, season tickets are declining. Why? Because the value proposition 30 years ago held true, when there were only two sports and not a ton of movie theatres, when you couldn't jump on a WestJet flight to Las Vegas for $100, when there's not 100 festivals going on in the city. So you and the family are going to go 10 times a year. That's not the world we live in today."
DAN'S WEEK 1 CFL PICKS
Montreal at Calgary
Thursday — 9 p.m. ET, Calgary by 3.5
Valid or not, questions about Calgary quarterback Bo Levi Mitchell's throwing shoulder coloured discussion of the Stamps' prospects for 2022. Fact is, they're deep enough to get it done regardless. What's more, Montreal's defensive backfield has been rebuilt and will endure the associated ups and downs. Calgary by 5.
Article content
Ottawa at Winnipeg
Friday — 8:30 p.m. ET, Winnipeg by 9.5
The 2019 and 2021 Grey Cup winners open up as overwhelming home field favourites over an Ottawa team picked by some pundits to win the CFL east. Champs are deeper and more talented and will show it early and often. Winnipeg by 10.
Hamilton at Saskatchewan
Saturday – 7 p.m. ET, Saskatchewan by 1
A Ticats defence that was stingy in 2021 looks even more formidable with the additions of Micah Johnson and Richard Leonard. Stability on that side of the ball and at QB, with undisputed No. 1 Dane Evans at the helm, is key. Hamilton by 6.
Edmonton at B.C.
Saturday – 10 p.m. ET, B.C. by 3.5
If you put stock in B.C. QB Nathan Rourke's pre-season numbers and the Elks' embarrassing home loss to Calgary, a Lions' win is an easy call. But Nick Arbuckle is apparently getting the ball again and Chris Jones simply has to get more out of his starting defence. Upset special. Edmonton by 1.
Betting lines: covers.com
All games on TSN