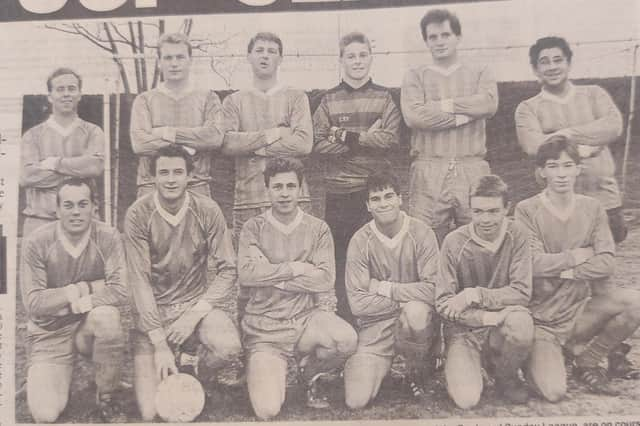 Crystal Windows, Dockyard League. Back (from left): Colin Light, Mark Cammerer, Brian Weston, Mark Phillips, Cope Hodell, Dave Heritage. Front: Toby Davies, Tim House, Mike Smith, Rob Stokes, David Woodley, Phil Bristow.
Here, we've scoured the Sports Mail archives to bring you 19 team pictures of Portsmouth area grassroots football teams from 34 years ago.
Perhaps you can spot yourself, a family member or a friend. And, yes, we know some of the hairstyles haven't aged well …
Prospect, Portsmouth Sunday League. Back (from left): Paul Harris, Trevor Holwell, Dave Clark, Del Massey, Tony Matthewson, Graham Harris, Steve Moth. Front: Brian Moth, Dave Newton, Barry Watts, Jeff Churchill, Darren Harris, Ian Churchill
Clanfield Under-12B. Back (from left): Derek Greves (coach), Stuart Cannings, Kevin Sullivan, Paul Greves, Chris Dean, Jamie Moran, William Lesants, Phil Hall. Front: Sam Eneter, Kristian Bamber, Phil Robertson, Michael Bacon, Darren Richardson, Paul Bramhall.
Westbourne, Havant League. Back (from left): Malcolm Meads (assistant manager), Paul Cooper, Mike Hales, Tim Firman, Mark Jeffrey, John Jeffrey, Neil Hamilton, Kevin Barber, John Geoghegan. Front: Ian Stevenson, Stuart Mariner, Sean Meads, Stuart Slade, Andy Crocker.
Portsmouth Under-11s.Back (from left): Gareth Smith, Stuart Baker, Paul Jenkins, Simon Fitt, Robin Drury, Nicholas Cleeve, Stewart Neill, Daniel Salter, Che Fox. Front: Bradley Maplesden, Stephen Hayward, David Graham, James Watkins, Andrew Young, Ben White, Paul Young.
Mardan, Portsmouth Sunday League. Back (from left): Mark Greasley (manager), Dave Thompson, Tim Field, Nick Stanndard, Matthew Hoar, Daren O'Neill, Ian Davidson, Kenny Tull, Steve Hendry. Front: Pete Couzens, Steve Rayner, John Scott, Anthony Tull (secretary)
Invincible, Dockyard Sunday League. Back (from left): Ian Gardner, Danny Prior, Malcolm Shaw, Lee Shaw, Jim Neill, Albert Pack, Vick Wain. Front: Sean Wilson, Colin Pack, Gary Rowlands, Alan Mooney, Rod Robertson.
Havant Under-15s. Back (from left): Robert Small, Chris Skelton, Mark Lambert, Graham Libby, Neil Barnett, Shane Foster, Kevin Beale. Front: Matt Duncan, Mark Jeffrey, Gareth White, Lee Hawkins, Darren Fell, Karl Watson.
Hargreaves Lads League Under-15s
Solent United Under-12A, Hargreaves Lads League. Back (from left): B Baker (coach), B Cromley, D Innalls, M Jenkins, P Fair, S Warwick, A Baker, C White, N Bold (manager). Front: L Mould, R Sillence, G Webb, A Heazelton, P Robinson, D Till.
Southleigh, Havant Sunday League. Back (from left): Keith Nevitt, Nick Perkins, Rob Dowling, Kevin Hughes, Rich Acton, Roland Barnard, Nigel Brett (manager). Front: Alex Moore, Richie Knight, Bob Hawkins, Martin Webb, Stephen Moth.
Solent United U14s. Back (from left): Peter Priestley, James Clarke, Mark Ogburn, Steve Lenton, Lee Walker, Simon Wall, Simon Ogburn, Bjay Green. Front: Chris Hawkins, Duncan Wright, Barry Mullarky, John Taw, Andrew Webb, Justin Messenbird.
Fawcett, Dockyard Sunday League. Back (from left): Ray Luff (manager), Colin Lowe, Kenny Wallington, Bradley Smith, Paul Tindal, Mick Bryant, Sam Povey. Front: Tony Conway, John Lockyer, Pete Tindal, Chris Stray, Steve English.
Riga A, Victory Cup winners. Back (from left): Gavin Legg, John McGee, Bobby Berry, Keith Brown, Mick Clifford, Tony Brooks, Robert Horn, Graeme Cooper, Shaun Muckells. Front: Shaun McCartney, Kieron Hoolihan, Simon Clarke, Owen McCartney, Simon Webb and Wayne Mowle.
Belle Vue. Back (from left): Stevie O'Shea (manager), David Titheridge, Kevin Welch, Stuart Warry, John Eade, Stevie Reid, John Jackson. Front: Freddy Land, Lee Taw, Peter Matthews, Anthony O'Shea, Gary Powell, Peter Knight, Shaun Murcott, Reg Stamp (secretary).
Avenue Hotel, Purcell Cup winners. Back (from left): Jimmy Wearn, Brent Gillingham, Franny Boyle, Mark Ware, Jimmy Lampitt, Ian Forbes, George Bartholemew. Front: Neil Chandler, Pete Humphries, Lou Savage Jeff Clements, Ricky Horn.
Royal British Legion, Gosport & Fareham Sunday League. Back (from left): Bob Hale (manager), Alan Stacey, Paul Ridout, Ian Barrett, John Glasgow, Kev Allen, Martin Hepburn, Charles Withington, Iain Grant. Front: Keith Barrett, Ian Freegard, Marc Withington (mascot), Brian Burnett, Glen Hamilton, Chris Moore
Havant Town Under-15. Back (from left): Jim Rickwood (manager), Ben Corbin, Matthew Lawrence, Lee Rickwood, Vince Stallard, Daniel Roberts, David Oliver, Andy Smith, Mick Gallagher (coach). Front: Paul Gidley, Mark Hayden, Gary Edwards, Justin Andrews, Russell Hibberd, Bob Barber.