The province's male football teams are set for the first Football Weekend in Saskatchewan.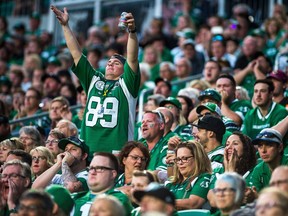 Article content
Are you ready for some football? If so, Saskatchewan's men's football teams have the weekend for you.
Article content
The inaugural Football Weekend in Saskatchewan is set for Sept. 16 and 17 at Mosaic Stadium.
The Saskatchewan Roughriders, the University of Regina Rams, University of Saskatchewan Huskies, Regina Thunder and Saskatoon Hilltops are involved in the initiative.
The weekend kicks off with a regular-season game between the Riders and Edmonton Elks on Sept. 16 at 7:30 p.m. The contest is also the Riders' annual Lights Out Game.
On Saturday, the Rams play the Hilltops at 2 p.m. The contest is followed at 7 p.m. by the Rams and Huskies.
"The Riders have always been strong supporters of amateur football in the province at every level," Craig Reynolds, the Riders' president and CEO said in a prepared statement. "In the last year — through the Saskatchewan Roughrider Foundation — we were able to provide more than $1 million in funding to football across the province. Through the Saskatchewan Football Weekend, we hope to continue to lift up our province's football programs and celebrate all the incredible talent Saskatchewan has to offer."
Bundled ticket packages for all three games will be available with special student sections at the Riders' game set aside for fans of the USports and junior teams.
Details of the numerous other events set for Sept. 17 around Mosaic Stadiums are to be announced later.
Ticket pages for Football Weekend in Saskatchewan are on sale through the Roughriders, Rams, Huskies, Hilltops and Thunder and include adult and youth pricing.
Article content
"We know how passionate Saskatchewan football fans are and we wanted to give them a weekend full of the best football this province has to offer," said Jeff Yausie, Football Saskatchewan's executive director.
mmccormick@postmedia.com
The sports world is ever-changing, as are the times. Supplement your steady diet of sports coverage by subscribing to the Regina Leader-Post's 306 Sports Fix newsletter. Each week, sports editor Rob Vanstone will provide additional commentary on the Roughriders, Pats and other teams/sports of interest, along with a peek behind the curtain. Click here to subscribe.