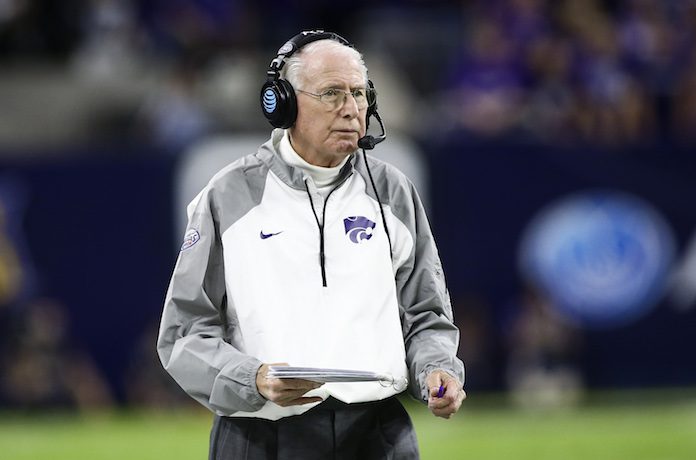 The onset of Name, Image, and Likeness in the NCAA means many colleges and universities are paying players for their services in what appears to be an unregulated environment. However unlikely it was in the past for schools like Kansas State to put together a roster to compete for a national championship in football, it seems more and more unlikely by the day. We all surmised that some programs were likely paying players under the table before, but now it is all out in the open for everyone to see.
It got me thinking. What if I could put together a team of K-State's greatest football players in their primes to compete against the best college football teams today? Would that fantasy team have a shot at the national championship? An exercise like this has been the fodder of fan message boards since message boards existed. Who is the best quarterback in school history? The best running back? The best wide receiver? Everyone has their criteria for "best" and sometimes it gets clouded with their "favorite."
For this exercise, I looked at it like this. If I had to put together a roster of K-State greats at each position, who would I choose to give me the best opportunity to win a game? Call it a fantasy draft or my K-State football "dream team." It is more difficult to do than it seemed at first. Some of the choices were easy, and some were pretty difficult. I had to leave out some great players.
Here are my choices by position:
Quarterback – Michael Bishop
The greatest quarterback in school history could do it all. He could scramble, run the option, and had a cannon for an arm. In my opinion, there is not a close second to choose to run the team.
Running Back – Darren Sproles
I am sure I will get very little argument about this one. Darren Sproles owns most of K-State's rushing records, and he went on to have a long and successful NFL career.
Fullback – Rock Cartright
I enjoyed watching Rock Cartwright both at K-State and for the Washington Redskins in the NFL. He had a successful 10-year NFL career. Can you imagine a backfield of Bishop, Sproles, and Cartwright? Yes, please!
Wide Receivers – Jordy Nelson, Tyler Lockett, and Darnell McDonald.
Jordy Nelson and Tyler Lockett are no-brainers. I am putting Darnell McDonald with them, but others might put Kevin Lockett, Quincy Morgan, Chris Harper, Andre Coleman, or a host of others. K-State has never been lacking at the wide receiver position. Well, until recently, anyway.
Offensive Line – Damion McIntosh, Todd Weiner, Ryan Lilja, Cody Whitehair, Nick Leckey, Jeromey Clary
Six offensive linemen? It was hard to pick just five, so I included one backup. The offensive line was also one of the more difficult positions to put together. K-State has had so many good offensive linemen over the years. I am sure I forgot someone, too.
Tight End – Jeron Mastrud
Mastrud holds the K-State record for receiving yards in a season for a tight end, so he got the nod over Henry Childs and Paul Coffman, who both had long and successful NFL careers. There are a lot of other candidates as well, but I think those are the top three.
Cornerback – Terence Newman and Clarence Scott
Newman is definitely the number one corner and would likely be the top selection by every K-State fan. Scott is an ex-NFL Pro-Bowler and was a first-team All-American at K-State. Chris Canty and Thomas Randolph would be my backups. I don't remember Randolph getting beat once in his time at K-State. Maybe the best shutdown corner K-State has ever had. He ran the 40-yard dash in 4.28, I believe.
Safety – Jarrod Cooper and Jon McGraw
Cooper was first-team All-Big 12 in 1998, which was K-State's best team. Ty Zimmerman and Jaime Mendez back them up. Mario Smith gets honorable mention as one of my favorite hitters.
Linebacker – Gary Spani, Mark Simoneau, and Josh Buhl
K-State old-timers still say that Gary Spani is the best K-State football player ever. Simoneau anchored the great K-State defenses of the late 1990s. Buhl owns the K-State record for tackles in a season and is top-four all-time on the career tackles list. Arthur Brown is a favorite of mine, but I couldn't put him in over those three.
Defensive tackle – Mario Fatafehi and Tank Reese
I stood next to Tank Reese once. It is no wonder he dominated on the defensive line. Fatafehi was first-team All-Big 12 in 2000 and first team all-American, according to Football News.
Defensive end – Darren Howard and Jordan Willis
Darren Howard was one of the most dominant college football players I've ever seen. He was a two-time all-Big 12 first-team selection and had a great NFL career with the New Orleans Saints and Philadelphia Eagles. Willis is at or near the top of K-State's all-time season sack and career sack lists. Ian Campbell and Wyatt Hubert get an honorable mention.
Kicker – Martin Gramatica
I didn't have to think about this one. Gramatica is the only kicker in my life that I made sure I would get in the stadium early to watch his warm-up kicks.
Punter – David Anctil
Anctil is the K-State record holder for punting average in a season and a career.
Punt Returner – David Allen
There are so many good options with any of the Locketts, Jordy Nelson, Darren Sproles, etc., but I will always go with David Allen.
Head Coach – Bill Snyder
I wonder how much Coach Snyder would disagree with my picks for this team!
Offensive coordinator – James Franklin
The current Penn State head coach was K-State's offensive coordinator under Ron Prince for two years in 2006 and 2007. I considered Bill Snyder the de facto offensive coordinator while he was head coach, so Franklin gets the nod here.
Defensive coordinator – Bob Stoops
Stoops was probably K-State's most heralded defensive coordinator. Mike Stoops, Brent Venables, and Phil Bennett can be on his staff.
There you go. This is the team I am picking to play with and beat the super teams of today, like Alabama or Georgia.
Could they do it? I would not bet against them.
I hope I didn't miss any obvious picks. I might catch some heat from some of you for players I've omitted. Oh well. This is my story, and I'm sticking to it. For now.