We take it for granted within the borders of the Lone Star State, but the Texas high school football playoffs are a pretty unmatched grind. With 64 teams in each 11-man bracket, a team must win six consecutive games to win a state championship — that's four more wins than it takes to win a College Football Playoff national championship, two more than it takes to win a Super Bowl, and one more than it takes to win an FCS national title or a state championship at the highest level in Florida or Georgia.
And that's not even to consider the mounting pressure that comes with each win-or-go home game, played in front of increasingly swelling crowds and ever-heightening hype on each play.
So, yeah, winning a state championship in Texas is hard, because winning in the playoffs is hard. But which Texas high school football programs have mastered the postseason the best?
Let's take a look at a few different metrics for postseason success, starting with the most basic measurement: number of playoff wins.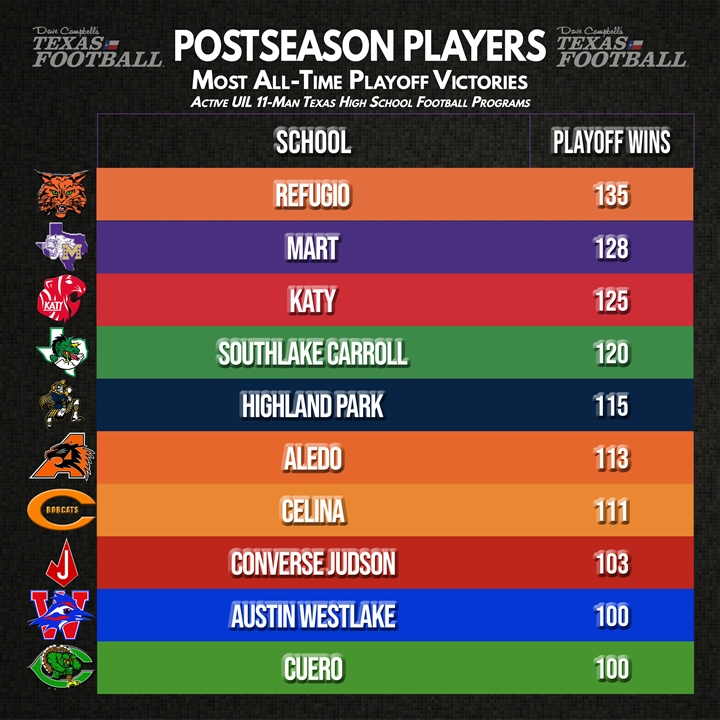 Refugio rules the roost when it comes to number of playoff wins, with a staggering 135 victories in the postseason — considering the Bobcats first made the playoffs in 1946, that means the boys from the Coastal Bend have averaged more than 1.7 playoff victories per season for the last 76 seasons. Fellow small-school powerhouse Mart ranksk second with 128, while the big schools dominate the next four spots with Katy, Southlake Carroll, Highland Park and Aledo.
But it's easy to see the flaws with this kind of metric — all of these programs are excellent, yes, but they've also had the benefit of being around for decades upon decades. What about win percentage in the playoffs? The results may surprise you.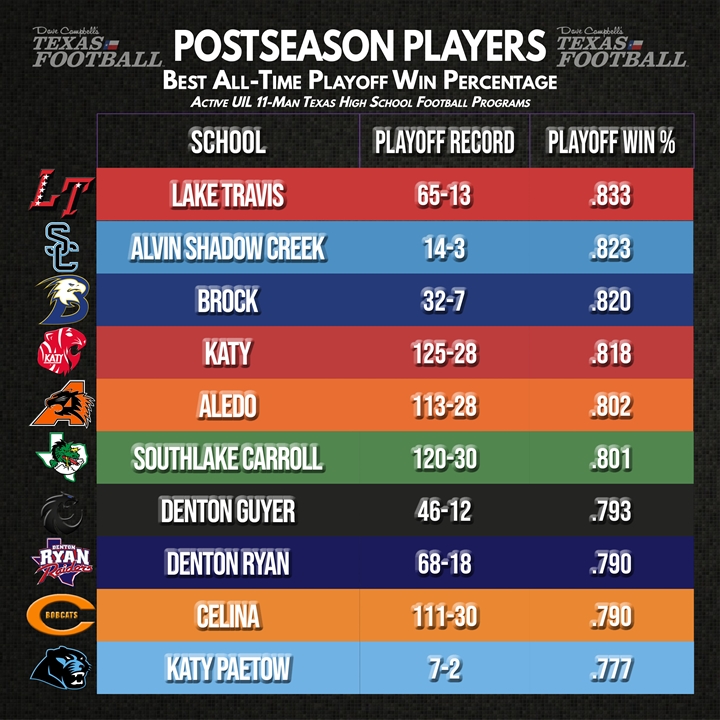 A flurry of young-ish programs litter the Top 10 Texas high school football programs by playoff winning percentage. We shouldn't be surprised to see Lake Travis here — their five-year run of state championships from 2007-11 means they racked up an astounding 30-0 mark in the playoffs, smashing the state record for consecutive playoff wins. Newcomer Alvin Shadow Creek, which started varsity play in 2018, checks in at No. 2, and Brock, which started varsity play in 2014, holds down the No. 3 spot. It's not until you get to No. 4 Katy that you start finding programs that have a long history. Also noteworthy is Katy Paetow, with a 7-2 all-time mark in the playoffs since their launch in 2018; remember that one of those losses — a 2020 area round defeat at the hands of New Braunfels Canyon — was a COVID-induced forfeit, so in many ways, the Panthers deserve an asterisk.
OK, so what if we combine the two to find some sort of measure of playoff success over a lengthy period of time? Let's set the minimum at 50 all-time playoff wins and see what shakes out.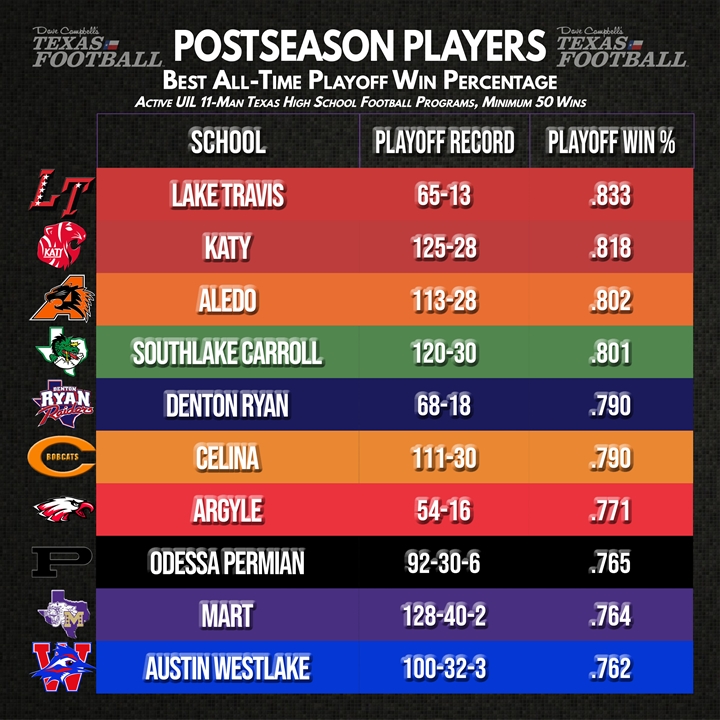 Just four Texas high school football programs — Lake Travis, Katy, Aledo and Southlake Carroll — can boast an .800 winning percentage with at least 50 playoff victories. Denton Ryan and Celina finish out the top 6 before we get to three programs we haven't seen yet on this list: Argyle, Odessa Permian and Austin Westlake.
So, which Texas high school football program is the best in the playoffs? Lake Travis is probably the answer, but Katy, Aledo and Refugio can also lay claim to that title. Regardless of the answer, these programs show up big when the stakes are the highest.
This article is available to our Digital Subscribers.
Click "Subscribe Now" to see a list of subscription offers.
Already a Subscriber? Sign In to access this content.